Back Eurometropolis Strasbourg supports cross-border mobility
Eurometropolis Strasbourg supports cross-border mobility
The Flex'hop on-demand electric mini-bus service system crosses the Rhine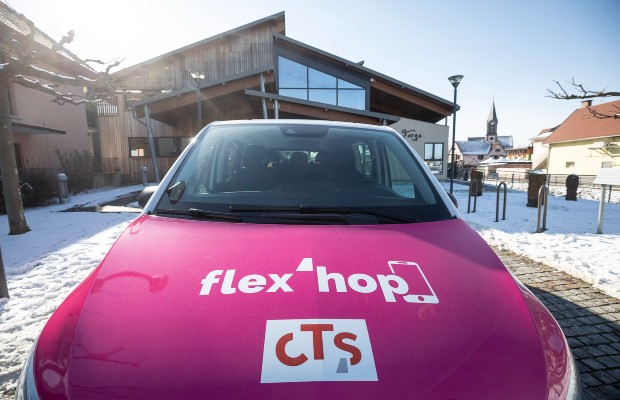 In order to offer innovative solutions that respect the environment, the Eurometropolis of Strasbourg decided, in October 2020, to deploy an on-demand electric minibus service, called Flex'hop, after a first phase of experiment launched in August 2019.
Designed to effectively complement the classic public transport offer of the Strasbourg metropolitan area thanks to its 270 stops that can be served, this public network is a real alternative to the private car, by connecting different areas of the Eurometropolitan territory of a flexible way.
Today, the Flex'hop system crosses the Rhine in order to enrich the cross-border mobility offer and thus since June 21, 2021 has served the European Rhine Forum stop. This extension of the Eurometropolitan on-demand transport service also allows users to use a connection on the German bus network to get to Offenburg.
Pia Imbs, president of the Strasbourg Eurometropolis, will participate alongside Alain Jund, Eurometropolitan Councillor in charge of mobility, Frank Scherer, president of the Strasbourg-Ortenau Eurodistrict, and Patrick Maciejewski, president of the Strasbourg transport company CTS, in the inauguration of the service of the Flex'hop network in Germany, on Wednesday October 13, 2021 at 3:30 p.m., at the European Rhine Forum (Am Altenheimer Yachthafen 1, 77743 Neuried).
On this occasion, an initial review of the commissioning of the Flex'hop system will be presented, as well as the projects carried out by the Strasbourg Eurometropolis to improve the offer of cross-border mobility.