null
Strasbourg tobacco factory
Strasbourg tobacco factory
A new destination for this valuable building of the 19th century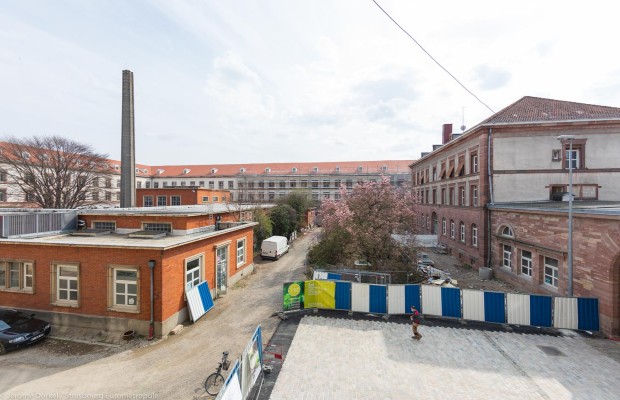 The "Manufacture des Tabacs" (tobacco factory) is a symbol of the 19th century industrial architecture and the Strasbourg tradition of tobacco processing and trade. It is no longer in function today and the site is now in its transformation phase.
The Strasbourg tobacco factory is the first example of the Eugène Rolland model for tobacco factories, which was followed by 18 others throughout France built from 1849 to 1902. Only 14 copies remain in France.
Severely damaged by bombing during the Second World War, the factory was rebuilt identically along the "rue Calvin". However its original chimneys are no longer existing. But since then, the site has not been significantly altered, apart from the construction of a new chimney in 1955.
Owned since 1999 by the Altadis group, born from the fusion of the Industrial Company for Tobacco and Matches (Seita) and the Spanish company Tabacalera, the factory was bought in 2007 by the tobacco manufacturer Imperial Tobacco but closed its doors a year later.
The tobacco factory is currently undergoing transformation and restructuring. The 20,000 m² of floorspace is to be used to house :
a youth hostel with a capacity of 59 rooms for two to eight people, and a total of 264 beds, the 2000m² building devoted to Semia and Accro, which will host a business incubator and startups. It will be equipped with offices, a large cafeteria, creativity and training rooms, all under a redone roof, attics refitted and transformed into additional floors, embellished with eight new large skylights,
three restaurants, farmers market and an event hall, will take place in the middle of the courtyard. The roof of the restaured building will be vegetated and will offer a terrace space.
the "Pôle d'excellence de géosciences, eau, environnement et ingénierie de l'Unistra" (University of Strasbourg Geosciences, Water, Environment and Engineering center) with two amphitheatres, fifteen classrooms, six computer rooms, laboratories, research offices, practical work rooms, a large hall and student areas,
the "Hear" (Haute Ecole des Arts du Rhin). The new location will give this school the opportunity to bring together music and art students under the same roof.
The challenge is to carry out all its major works while respecting the historical and architectural past of this cultural heritage important for the inhabitants of Strasbourg who are currently being consulted until the end of April to give their opinion on the site's exterior layout.
The 6000m2 courtyard will become a real public central city space for the inhabitants and visitors. The red beech, the two original magnolias, as well as new plantations and the two gardens will harmonize the whole project in a pleasant and peaceful way.
The new "Manufacture des Tabacs" should be completed in 2023.