null
The City Baths Strasbourg
The City Baths Strasbourg
Renovation in the final phase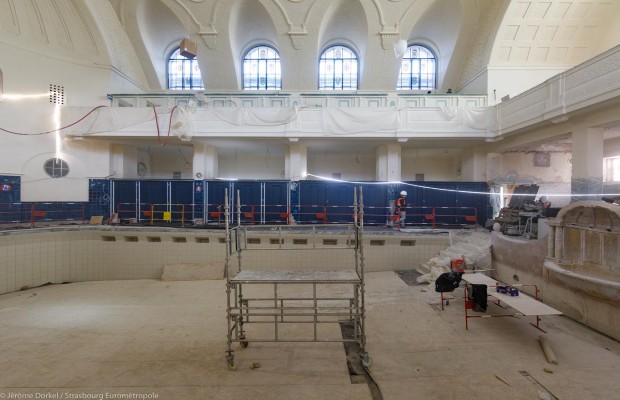 The City Baths Strasbourg were built at the beginning of the 20th century in the heart of the district Neustadt, (during the germanic period) and has been partially classified as historical monuments since the end of 2017.
This Art Nouveau-designed building is more than a symbol for the inhabitants of Strasbourg. It is an important emblematic historical patrimony for everyone that requires major renovation and restructuring.
The City of Strasbourg has entrusted SPL Deux-Rives to manage this project of restoration by imposing following essential criteria :
Respect for cultural historical heritage,
Adaptation of the new facilities to contemporary standards and customs,
Ensuring that this renovated structure is accessible to a wide variety of different publics (especially schools),
Enabling a more efficient use of natural resources, especially for water in the swimming pools, and this with saving and reducing energy intensit.
This renovation work amounts to 40.22 million euros. To carry out this project, the SPL Deux Rives chose the solution of a group of companies led by Eiffage Construction Alsace in collaboration with Chatillon Architects and Agence TNA, two companies renowned for their know-how and expertise in the field of aquatic equipment. The management of this aquatic structure will subsequently be entrusted to Equalia Company.
The main objective of this renovation is to preserve the historical heritage and adapt it as well as possible to current needs and uses. The challenge also aims to keep the original essential function of the building, namely to remain a swimming pool opened to the neighborhood and the inhabitants.
Download more information about the projet