Back Renovation of the building of the City and Eurometropolis of Strasbourg
Renovation of the building of the City and Eurometropolis of Strasbourg
Several months and years will be needed to complete the entire renovation project, the first priority being the improvement of reception conditions for the public.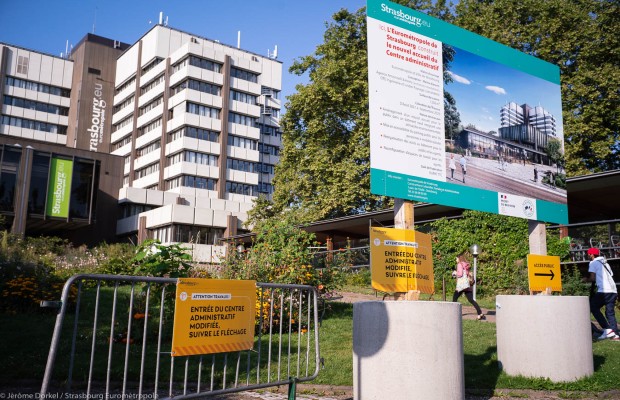 The Centre Administratif, designed in the mid-1970s and housing the services of the city and the Eurometropolis of Strasbourg, will be unter construction for several months and years to come with multi-phase construction sites.
The first phase is to create a new reception hall with a redesign of the forecourt of the administrative center. Several phases of work are planned.
The objective of this reorganization is first of all to offer an optimal and better welcome to the public, in particular to make the reception hall more accessible for people with reduced mobility while integrating criteria of ecology and sustainable development into the several architectural work steps (green roof, infiltration of rainwater, etc.). The cost of these renovations amounts to 8.6 million euros.
► The public parking of this building is closed to the public for the duration of the works.
Plan of phasing 5